Mantsbrite introduces new Koden ESR-S1BB sonar
Maldon, Essex: Mantsbrite is a distributor for a wide range of marine electronic and navigation equipment manufacturers, Koden Electronics being just one. The company's highly technical navigational aids have been part of Mantsbrite's product base for many years, and include radar and sonar equipment, echo sounders and GPS/GPS compass.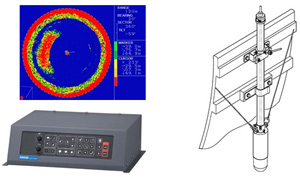 The latest product to be included in Mantsbrite's portfolio is the Koden ESR-S1BB 360° scanning sonar which is unique in as much that this is the first sonar designed for installation on small fishing boats. In the past most sonars have always used a traditional hoist operated transducer which has typically required a minimum of 4 or 5 feet below deck for the transducer tube and the electric hoist; this has not always been achievable on small boats. The new Koden ESR-S1BB sonar transducer is designed to be installed on a pole which goes over the side of the boat which both minimises installation costs, and renders it suitable for even the smallest boat without space for a traditional hoist operated sonar transducer.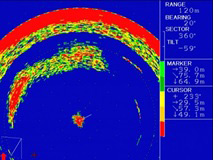 The Koden ESR-S1BB comprises the sonar transducer, the sonar processor (which has a VGA output for connection to a monitor), keyboard and a hand held remote control. With a power output of 800 watts and a frequency of 220 kHz the Koden ESR-S1BB has a maximum range of 300m. The sonar has an adjustable tilt angle allowing the user to look directly ahead or to "tilt" the sonar beam down in 1° increments to look directly beneath the vessel. The area or sector of scan is also adjustable; this can be from a 360° scan all around the vessel down to a small sector, for example, just ahead of the boat. The ESR-S1BB has an adjustable cursor for range and bearing to target and there is also a "target lock" feature where the sonar beam tracks the echo automatically. The sonar can also act as a conventional echo sounder if required.
Mantsbrite's David Ash comments: "We took the new Koden ESR-S1BB sonar to the Skipper Expo in Galway, which was the first commercial fishing show of the year; we received a great response to it from both the fishermen and the dealers, as for the first time a small boat of say 7 or 8m long can have a full 360° scanning sonar which is easy to install, easy to operate and cost effective. We are proud to have been a distributor for Koden products for many years and this is yet another excellent Koden product!"
The Koden ESR-S1BB sonar costs £4218 ex duty ex VAT and is available through Mantsbrite's 175-strong UK and Ireland dealer network. Full technical details can be found on Mantsbrite's website, www.mantsbrite.com. Mantsbrite is celebrating its 50th Anniversary in 2014.
For further information, please click here