Maldon, Essex: Distributor of navigational equipment, Mantsbrite Limited, is pleased to offer its customers the latest GPS compass from Koden – the new Koden KGC-222.
Koden enjoys an international reputation for its highly technical, leading edge navigational products for which Mantsbrite has been the UK and Irish distributor for a number of years.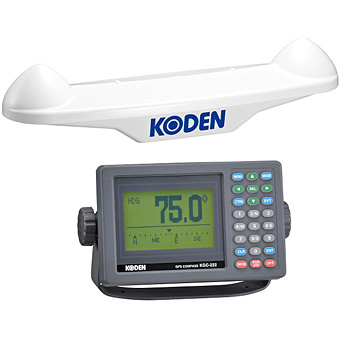 The KGC-222 consists of two main components, the display unit where heading, position, speed and course data can be shown in large easily legible characters and the external antenna with 10 metre cable. The KGC-222 features a 16 channel parallel GPS engine providing heading accuracy to 1° with a heading resolution of 0.1° An important feature is the KGC-222's internal electronic compass and rate sensors which seamlessly act as a backup heading output should GPS reception be interrupted, for example when sailing under a bridge.
Explaining the KGC-222's versatility, Mantsbrite Managing Director David Ash comments: "The KGC-222 incorporates all of the features we have been looking for in a GPS compass at an extremely competitive price of £1650 ex VAT. One of the great things about the KGC-222 is its flexibility. It is supplied as standard with the display and three NMEA data outputs which for example can be connected to an autopilot, radar and 3D chart plotter. The three data outputs can be individually configured to suit and it is easy to expand to 5 data outputs using the optional junction box. The KGC-222 also incorporates Pitch, Roll and Heave sensors; this data can be output for use with echosounders, 3D chart plotters etc. I don't know of any other GPS compass that is supplied with a display that offers this performance and flexibility for the price!"
Full technical details of the Koden KGC-222 GPS compass can be found on Mantsbrite's recently enhanced website www.mantsbrite.com, and the products are now available through Mantsbrite's 175-strong UK and Ireland dealer network.