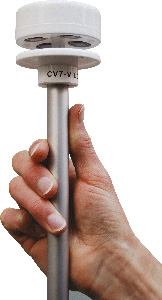 Maldon, Essex: Precise assessment of the wind speed and direction is integral to an accurate weather forecast, which will always be of great importance to the marine industry. Any instrument that can deliver this information reliably will take the guesswork out of a potentially life-threatening situation.
Through its 175 strong dealer network in the UK and Ireland, Mantsbrite is a leading supplier of high specification electronic equipment to all sectors of the marine market - leisure, fishing and commercial. In a move which will further enhance the range of sophisticated instrumentation which it supplies to its dealers, the company has negotiated an exclusive distribution agreement for a range of 2-axis ultrasonic wind sensors from the French manufacturer, LCJ Capteurs. LCJ Capteurs is well-respected in the field of European marine electronics, (the same team was behind the successful range of MLR GPS from the 1990s) and is currently producing its 4th generation ultrasonic wind vanes and anemometers for marine use.
Mantsbrite's Managing Director David Ash believes ultrasonic wind sensors are an exciting addition to the company's range of products, saying:
"The main advantages of ultrasonic wind sensors are twofold. There are no moving parts to wear out and the performance will not degrade over time unlike conventional anemometers where bearings wear and eventually fail giving inaccurate wind information. Wind speed resolution is superb at 0.1 knot and the sensitivity range is 0.25 to 80 knots on the CV7.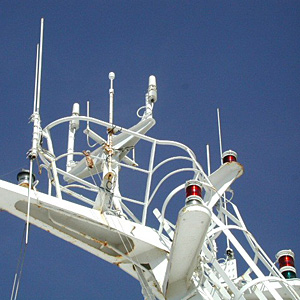 The LJC Capteurs Ultrasonic wind sensors are available in a variety of configurations to suit most applications, and have a variety of data outputs such as NMEA 0183 & NMEA 2000. They are also compatible with the range of equipment produced by other popular manufacturers such as Raymarine and B&G, meaning that they can be used to replace existing anemometers.
"These are high quality instruments, robust, compact, light and energy efficient, whilst being manufactured at competitive prices. The reputation of the manufacturer and the reliability of the instruments are known globally, and we are proud to add LCJ Capteurs' Ultrasonic wind sensors to our existing range of equipment from an already impressive list of equipment from major manufacturers.
"The burgeoning offshore wind energy sector, particularly along the UK's eastern coastline, is creating an increasing demand for vessels to service both the construction and maintenance stages of these new wind farms. Mantsbrite and its dealers are experiencing a growing demand for sophisticated navigational equipment and instrumentation from a wide spectrum of boat builders, which are continuing to step-up their production to meet the ever-increasing needs of this expanding industry."
He added: "I don't think it will be long before ultrasonic wind sensors are a standard fixture on vessels being used in many sectors of the marine industry."
Mantsbrite will be exhibiting the LCJ Capteurs ultrasonic wind sensors on its stand [B174] at the London Boat Show from 12- 20 January 2013.