Maldon, Essex: Effective communication between skipper and crew plays an important role in the safe passage of vessels of all types and sizes, and a new range of products from specialist electronic navigation and communication distributor Mantsbrite will make on-board communication much more effective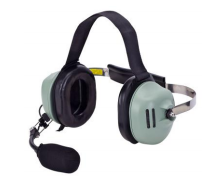 The David Clark Company has pioneered air and space crew equipment design and manufacture for over 70 years, and its new Marine Wireless Headset Communication Systems provide maximum mobility and clear communication without crew members being tethered to the vessel
Mantsbrite chose the BMEA conference and exhibition to launch these systems to the UK and Ireland marine industry, and Managing Director David Ash believes wireless headsets will quickly prove very popular, saying: "They are ideal for a wide variety of work boats, barges, tugs, and ferries as well as harbour patrol, coast guard and pilot vessels.
"He added: "David Clarke headsets have been in use in the aviation industry for many years, and have a great reputation for clarity and reliability, and I am delighted that Mantsbrite is now able to offer them to the marine sector."
Providing crisp clear communication over a 100 metres range, David Clark wireless headset systems offer totally hands-free communication using lightweight battery packs with up to 24 hours use between recharges. These stylish, yet rugged headset systems are manufactured using marine grade components, and the range features versions which are specifically designed to be worn under protective 'hard' hats
These innovative wireless headset systems will shortly be available from Mantsbrite's 175 strong UK and Ireland dealer network to which it already supplies navigation and communication products from manufacturers including AMEC, ComNav, Cristec, ENAG, Interphase Technologies, Koden Electronics, Lorenz, Navicom and North Invent.