The Island Hub is a young and highly enterprising business based on South Uist in Scotland's Outer Hebrides. It was founded earlier this year by businessman Stephen Tanner and, having recently joined the Mantsbrite dealer network, the business is now able to supply the full range of marine navigation and communication equipment which Mantsbrite distributes in the UK and Ireland.
David Ash, Managing Director of Mantsbrite, is enthusiastic about The Island Hub's potential, saying;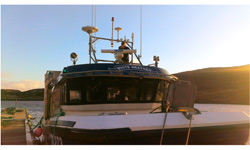 "Stephen has a can-do approach to business; he is often to be found aboard a fishing vessel carrying out delicate repairs to navigation equipment in a less than ideal environment for such work. I believe he will develop a strong sales outlet for our products in the Western Isles."
Working with solid state computer equipment first brought Stephen into contact with fishermen and the fish market-house owners on South Uist, and this led him to establishing a much needed service in repairing marine hardware equipment. He said:
"I am very comfortable selling and supporting a wide range of electronic products and equipment. I believe the role of The Island Hub is one of facilitation, helping businesses and individuals to be more productive in what is a beautiful, yet rather rugged and remote part of the UK."

2014 is Mantsbrite's 50th Anniversary year, and it currently supplies its 175 strong dealer network with a wide range of products from manufacturers including AMEC, ComNav, David Clark, ENAG, Fineman, Koden Electronics, Lorenz, Navicom and North Invent.