FIFISH V6 is a mini ROV powered by 6 thrusters which provide incredible manoeuvrability, move sideways, forwards, backwards, up, down, roll, pan and tilt with exceptional stability whilst filming or taking single shot photographs with the Sony 4K UHD camera with 166o field of view down to a maximum depth of 100m.
100m cable
VR Head Tracking system
4K UHD Footage
Maximum speed 3 knots
Up to 4hr battery life
All inclusive smart app
The V6 is connected to the controller by a 100m cable, the controller in turn is connected via WI-FI to either a smart phone or tablet providing real time video footage where up to 3 devices can connect and simultaneously view the images.
Posture LockTM
An interesting feature of the V6 is Posture Lock whereby the user can tilt the V6 to an angle e.g. 45o then maintain that angle while moving in the desired direction, this can be especially useful when performing hull inspections, wreck inspection etc
Fully Optimised Camera System
The V6 delivers 4K footage at 30 frames per second or can film at 1080p with an impressive resolution of 120fps. With an advanced motion stabilisation system the V6 also avoids blurred shots. The H.265 codec offers advanced compression, resulting in higher storage efficiency with greater detail.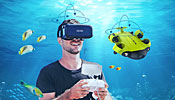 Immersive VR adventure
FIFISH V6 integrates VR smart technology that fully immerses the user into the underwater world. With the Head Tracking feature, put yourself into the drones first-person-view and control where you want to go simply by turning your head.
4000 Lumen Lights
Featuring 2 x 2000 Lumen LED headlights with different levels of brightness the V6 can also be used in low visibility or at night.
Compact Size
The V6 measures 38.3cm x 33.1cm x 14.3cm and weighs only 3.9kg