FIFISH V6 PLUS is a professional ROV and has been designed specifically for marine engineering and underwater operations and can reach a depth of 150M. V6 PLUS is equipped with Q-Motor thruster system and sonar array to perform the Collision Avoidance System and Fixing Distance Scanning functions. The FIFISH V6 PLUS brings simplicity and reliability for professional underwater tasks such as ships hull, bridge structures, reservoir, offshore infrastructure inspections etc.
200m cable

Up to 8hr battery life
Distance & Altitude Lock
Smart Collision Avoidance
AR Laser Scaler
4K UHD footage
Maximum Speed 3 knots
Supplied with 128mb SD card
All inclusive smart app
VR Head Tracking system
Optional Accessories
FIFISH V6 PLUS is powered by 6 thrusters which provide incredible manoeuvrability, move sideways, forwards, backwards, up down, roll, pan & tilt with exceptional stability whilst filming or taking single shot photographs with the Sony 4K UHD camera with 166o field of view down to a maximum depth of 100m.
The V6 PLUS is connected to the controller by a 200m cable, the controller in turn is connected via WI-FI to either a smart phone or tablet providing real time video footage where up to 3 devices can connect and simultaneously view the images.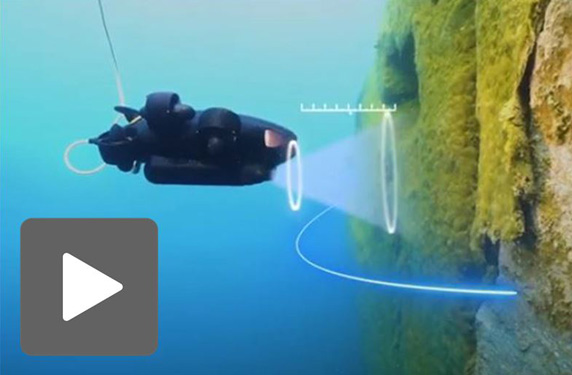 Distance Lock & Altitude Lock Sonar System
Distance Lock & Altitude Lock measures the forward distance and the downward altitude in real time making it easy to operate. When using the active forward lock distance feature the V6 Plus can easily swipe scan resulting in complex tasks such as hull inspection becoming efficient and highly accurate.
The Distance Lock & Altitude Lock can also maintain altitude even when cruising over uneven terrain without disturbing the seabed.
Smart Collision Avoidance
The FIFISH PRO V6 PLUS dual sonar system enables the V6 Plus to avoid collision in both forward and downward directions.
AR Laser Scaler
Underwater objects can be accurately measured with the AR Scaler and Laser Scaler function.
Fully Optimised Camera System
The V6 PLUS delivers 4K footage at 30 frames per second or can film at 1080p with an impressive resolution of 120fps. With an advanced motion stabilisation system the V6 PLUS also avoids blurred shots. The H.265 codec offers advanced compression, resulting in higher storage efficiency with greater detail.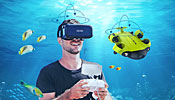 Immersive VR adventure
FIFISH V6 PLUS integrates VR smart technology that fully immerses the user into the underwater world. With the Head Tracking feature, put yourself into the drones first-person-view and control where you want to go simply by turning your head.
6000 Lumen Lights
Featuring 2 x 3000 Lumen LED headlights with different levels of brightness the V6 PLUS can also be used in low visibility or at night.
Removable SD Card
Quickly store and transfer data with the supplied 128mb SD card. The FIFISH V6 PLUS can support up to 512mb SD card.
The Q-IF (QYSEA Interface)
The Q-IF (QYSEA Interface) enables V6 PLUS to attach a variety of optional accessories for various applications and multiple tasks. The most popular accessory is the Robotic arm as this enables the V6 PLUS to perform underwater retrieval as the robotic arm can grab objects and features a clamp lock function. With a clamping and towing force of 100N (around 10kg) the full functioning robotic arm can drag, drop, tow and salvage underwater objects. Water sampler, water quality detector, Qysea camera and a special aluminum alloy hook are also available.
The U-QPS(Underwater Quick Positioning System)
This optional accessory allows the FIFISH V6 PLUS to quickly indicate real time location of an underwater object and is ideal for underwater search and rescue missions.