FIFISH V6 EXPERT is a professional-class underwater robot and multi-capable tool for enhancing your underwater missions and operations. When equipped with an onshore power supply system the V6 EXPERT delivers optimal diving performance and operating time.
Posture Lock
Depth Lock
100m cable (standard)
Secure and Fast Charging
Onshore Power Supply System (option)
Q-IF Multi-functional Extension Interface
DNG Format Support
240 FPS Slo-Mo Filming

FIFISH V6 EXPERT is powered by 6 thrusters which provide incredible manoeuvrability, move sideways, forwards, backwards, up down, roll, pan & tilt with exceptional stability whilst filming or taking single shot photographs with the Sony 4K UHD camera with 166o field of view down to a maximum depth of 100m.
The V6 PLUS is connected to the controller by a 200m cable, the controller in turn is connected via WI-FI to either a smart phone or tablet providing real time video footage where up to 3 devices can connect and simultaneously view the images.
Multi Tool Extensions, Unlimited Possibilities
FIFISH V6 EXPERT's interface Q-IF (QYSEA Interface) enables the efficient integration of a wide range of professional-level and industry-specific tools to tackle different scenarios and tasks.
The most popular accessory is the Robotic arm as this enables the V6 PLUS to perform underwater retrieval as the robotic arm can grab objects and features a clamp lock function. With a clamping and towing force of 100N (around 10kg) the full functioning robotic arm can drag, drop, tow and salvage underwater objects. A wide range of inspection, measurement, navigation and manipulator tools are available.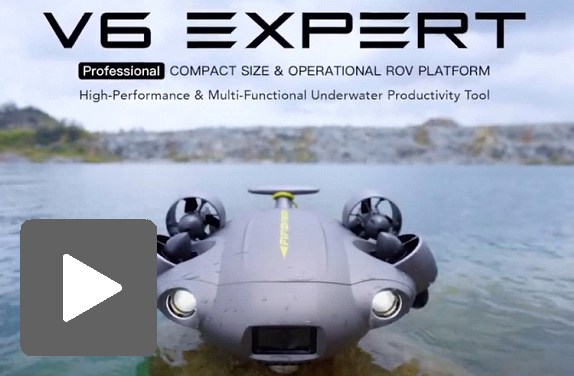 Fully Optimised Camera System
The V6 PLUS delivers 4K footage at 30 frames per second or can film at 1080p with an impressive resolution of 120fps. With an advanced motion stabilisation system the V6 PLUS also avoids blurred shots. The H.265 codec offers advanced compression, resulting in higher storage efficiency with greater detail.
6000 Lumen Lights
Featuring 2 x 3000 Lumen LED headlights with different levels of brightness the V6 EXPERT can also be used in low visibility or at night.

Micro SD Card, Fast Transfer & Storage
The SD card can be taken out of the V6 EXPERT for data exporting with ease. The ROV comes equipped with a 128GB card for ample space and storage of high-definition films and images.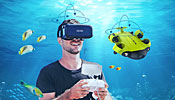 Immersive VR adventure
FIFISH V6 PLUS integrates VR smart technology that fully immerses the user into the underwater world. With the Head Tracking feature, put yourself into the drones first-person-view and control where you want to go simply by turning your head.