Maldon, Essex: when Koden distributor Mantsbrite was approached by an established client to fit out new vessels with state-of-the-art electronic navigation equipment, a year-long process was put in place. The order came from Leo Hambro and Adam Wright of Tidal Transit in North Norfolk, whose company was making a significant investment in crew transfer vessels for North Sea wind farm developers.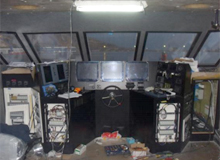 The boats needed the best navigational aids available to be able to function well in the unfriendly waters of the North Sea. Established in 1964, Mantsbrite is a principal distributor of electronic equipment into the marine industry, with an established dealer network throughout the UK and Ireland, for many of the prodigious names in this sector, including Koden and Lorenz, whose products these Tidal Transit installations were based on.
Through its network of highly trained dealers, Mantsbrite is able to offer a complete package - design, sales and after sales support, leasing, installation and service, and this is what Tidal Transit benefitted from. The company is highly regarded as a supplier of high class equipment and for its superb record of customer support.
Mantsbrite had worked with Adam previously in 2006, having equipped Katy Louise,another Tidal Transit vessel, with a Koden package. After extensive discussion between Mantsbrite, Adam and the UK representative of Murcurio, the Spanish company that was building the new boats, a specification based on Koden and Lorenz equipment was decided upon.The final electronics package consisted of an MDC-2510 12kW black box radar, a secondary MDC-2040 10.4" 4kW radar, a CVS-841 echosounder, a KAT-100 class A AIS, and a KGC-1 GPS compass, all from Koden. Other items included a Lorenz Magnum Pro Chart plotter, MF/HF radio, 8 camera CCTV system, Broadband Satellite Internet, satellite TV, autopilot, MOB system, and flat screen monitors. Quite an inventory!
All the groundwork was carried out in the UK. The agreed system was designed and integrated in Mantsbrite's workshop in Maldon where extensive testing was carried out prior to shipment to Murcurio's boat yard in Spain. Once there, two engineers from the UK - one from Mantsbrite and one from Tech Marine in Plymouth (a Mantsbrite dealer) - carried out the initial installations and preliminary sea trials in Spain. This final Spanish phase was carried out in just four days.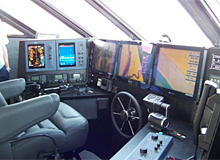 David Ash, Managing Director of Mantsbrite is pleased with the way the project has gone, saying: "This has been one of our most interesting projects, where we've seen it through from the seeds of an idea at the very beginning, to the final commissioning, which was carried out once the boats were back in the UK. Its success is due to the excellence of the equipment we provided, but also, in no small part, to the maintenance of a continuing dialogue between all parties concerned."
The first boat, Ginny Louise, was delivered to Tidal Transit in December 2011 for immediate operation and Eden Rose was completed and delivered in May 2012. Both Tidal Transit vessels have since been operating successfully in the North Sea serving the offshore wind farm market.