New Ultrasonic Wind Sensors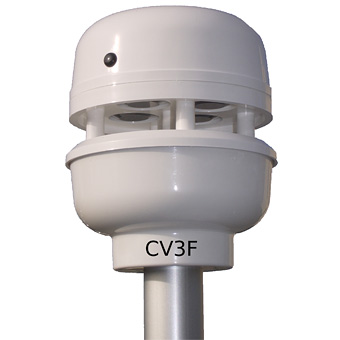 In a move which will further enhance its range of sophisticated instrumentation, Mantsbrite has negotiated an exclusive distribution agreement for a range of 2-axis ultrasonic wind sensors from the French manufacturer, LCJ Capteurs, well-respected in the field of European marine electronics.
The main advantages of ultrasonic wind sensors are twofold. There are no moving parts to wear out and the performance will not degrade over time unlike conventional anemometers where bearings wear and eventually fail giving inaccurate wind information. Wind speed resolution is superb at 0.1 knot and the sensitivity range is 0.25 to 80 knots on the CV7. The LJC Capteurs Ultrasonic wind sensors are available in a variety of configurations to suit most applications, and have a variety of data outputs such as NMEA 0183 & NMEA 2000. They are also compatible with the range of equipment produced by other popular manufacturers.
These high quality instruments are robust, compact, light and energy efficient, whilst being manufactured at competitive prices. Mantsbrite and its dealers are experiencing a growing demand for sophisticated navigational equipment and instrumentation from a wide spectrum of boat builders. David Ash comments: "We have already sold five units to a company in Dubai, and I don't think it will be long before ultrasonic wind sensors are a standard fixture on vessels being used in many sectors of the marine industry."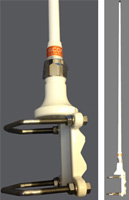 Mantsbrite announces distributorship for SCAN Antenna A/S
While at Sea Work International 2013, Mantsbrite announced its appointment as a distributor for SCAN Antenna A/S, a Danish company that specialises in the production of high quality antennas. David Ash says: "The company has an excellent pedigree within the industry having manufactured antennas since 1947 for many prestigious OEM clients. SCAN Antennas are the perfect complement to our portfolio of electronic navigation equipment, and I'm delighted that we have been appointed as a distributor." Further product details can be found on Mantsbrite's website.
Wireless headsets aiding Health and Safety
Mantsbrite's recent launch of the new David Clark Marine Wireless Headset Communication System into the UK market provides effective communication between a vessel's wheelhouse and the on-deck crew. One of the early users is a company operating a growing fleet of the latest generation of offshore wind farm personnel transfer and support vessels.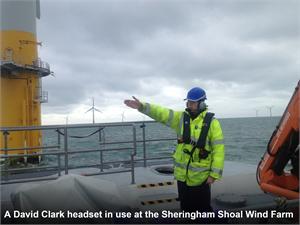 Offshore wind energy is a young, rapidly growing industry in which hundreds of millions of pounds are being invested as the UK seeks to secure its source of renewable energy for future generations. As in all young industries, the challenges are immense, and many companies which have traditionally worked in marine engineering and technology are taking a highly pro-active approach to such challenges.
Mantsbrite Managing Director David Ash believes that these rugged wireless headsets will play an important communications role in many marine and offshore applications, and he is currently looking at the practicalities of their use by construction workers and wind turbine engineers who build and maintain these huge offshore structures. He said:
"The David Clark wireless headsets provide crisp clear communication over a 100 metre range, which is slightly greater than the height of the majority of wind turbine towers currently being erected in the waters surrounding the UK. Health and safety disciplines demand that wind turbines are 'hard hat' locations for all workers, and the range features versions which are specifically designed to be worn under such protective headgear.
"David Clark headsets have been in use in the aviation and aerospace industries for many years, and have a great reputation for clarity and reliability. Our installations in the marine environment are proving equally effective and reliable, and we are now developing applications for offshore wind farm developers, operators and construction contractors to provide solutions to the person to person communication challenges of these harsh working environments."
Mantsbrite out and about in 2013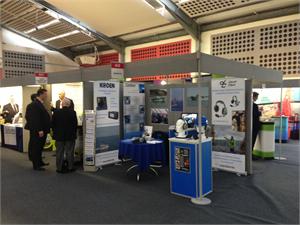 Exhibitions began early in 2013, with the company's attendance at the London Boat Show in January, where it launched its latest innovative products, the LCJ Capteurs range of ultrasonic wind sensors and the David Clark wireless headset communication systems. They featured at the event alongside products from established Mantsbrite suppliers, Koden and Lorenz. The products also aroused great interest at the Southern North Sea Conference and the Skipper Expo International in Galway, both of which took place in March. All three events have been well attended, and the Mantsbrite stand was busy.
New Tidal Transit contract for Tia Elizabeth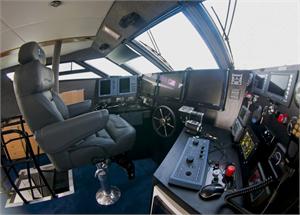 Mantsbrite has won the contract to fit out the third Tidal Transit offshore wind farm personnel transfer vessel 'Tia Elizabeth'. All the navigation and communication equipment for the first two vessels in the Tidal Transit fleet - 'Ginny Louise' and 'Eden Rose' - was supplied and installed by Mantsbrite, and the specification for 'Tia Elizabeth' remains unchanged with the exception of the addition of a state-of-the-art seabed monitoring system and the use of new ultra sonic wind sensors.
Mantsbrite will assemble and test all the equipment in its workshops, and it will then be packed and shipped to the boat builders, Mercurio Plastics in Cartagana, Spain. Mantsbrite engineers will undertake the installation and commissioning process in Spain.
Spotlight on …. Matthew Langham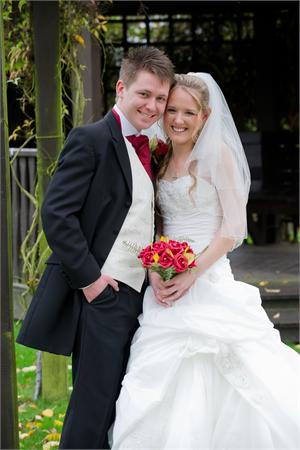 Marine Electronic Engineer, Matthew Langham, has been working for Mantsbrite for two years. In the course of his working week, he undertakes the repair and maintenance of a variety of equipment, including radars, plotters and echo sounders. These activities keep him within the workshop.
However, he also installs equipment on vessels, and undertakes customer support, which takes him away from base. Depending on the type of work being done, he either works alone or as part of a team.
"I love the hands-on nature of the work," he comments, "and meeting new people is a particular pleasure."
In his two years as part of the Mantsbrite team, Matthew has achieved several qualifications, including MEI (Marine Electronics Installer), AMEI (Advanced Marine Electronics Installer), BMET and GMDSS GOC.
Matthew is recently married, and likes to spend any spare time honing his target shooting and archery skills, and reading.
And lastly ......... www.mantsbrite.com
Mantsbrite's new website is now up and running. It has been under development for the last few months, and David Ash commented, "I'm pleased to announce that our bright, new, user friendly site 'went live' to coincide with the opening of Sea Works International, which is always a very important exhibition for us."